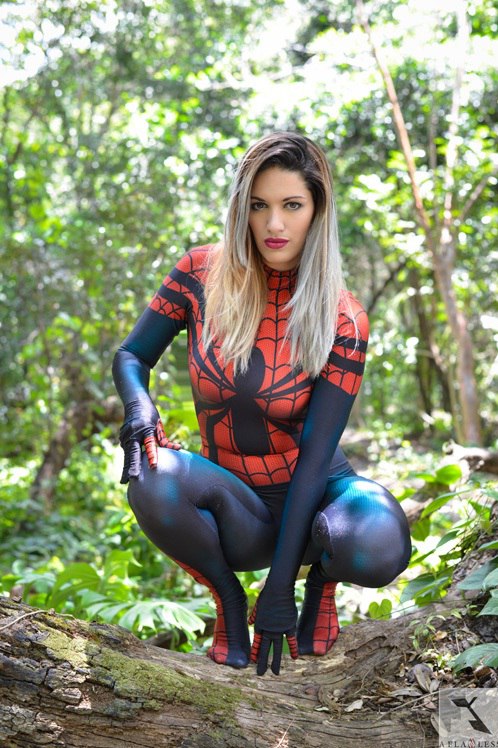 People about Cosplay...
What do you think of cosplay?
I think cosplay is a bit of an art form. A lot of time goes into some cosplay, especially the more meticulous, detail oriented costumes. Because of that, it's more than just "dressing up" to me. I see it no differently than movie costumes or FX makeup in terms of seriousness. Some people even make careers into it. I assume some others are able to break into other careers like acting or the aforementioned FX makeup.

It's not everyone's cup of tea… and I respect that. However, there's a lot more that goes into cosplay than what people see at face value.
As a cosplayer, what should I put on first? My cosplay/outfit or makeup?
It really depends on:

The costume. How is it made? How is it put on? How hard/easy is it to wear?
The cosplay. What cosplay? What makeup does it require?
Individual preference. What works best for you?

There is no 100% rule for this. If it requires body paint, doing that before putting on the costume may be best. If the costume requires going over the head, putting makeup on after the costume is at least halfway on may be better. Same with wigs and other accessories.

I tend to decide on and create my cosplays with makeup/wigs as the last things to put on, not the first. Because for me that is easier. And since I am allergic to body paint, that isn't a concern. It varies from cosplayer to cosplayer and cosplay to cosplay.
What should every first time cosplayer know?
There's a few things – one is that you you're going to get asked for pictures, especially if you cosplay a popular character.

For conventions, make sure that you have a way of carrying essentials on you, even if your costume doesn't have pockets. Perhaps make a simple bag to match your costume (same color as your outfit, or decorated with a suitable design, an example being a Jedi costume with the Jedi order symbol).

Wear your costume around before the convention, to make sure that you can move around in it, or that things don't start slipping/pinching/falling apart after a little while. At home, there's lots of time to make adjustments and fixes.

Don't worry if you're not as good as some of the veteran or professional cosplayers out there. Those cosplayers started somewhere too, and with practice, you too will eventually get good.